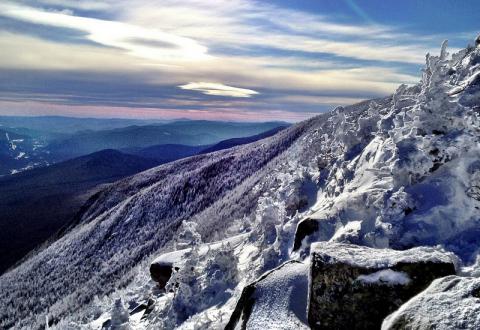 New Hampshire's Granite State
by Anne B. Currier
New Hampshire designated New Hampshire's Granite State; words and music by Anne B. Currier, as an honorary state song in 1977.
Lyrics
God must have loved New Hampshire
from the mountains to the sea -
He made her scenic splendor
under skies of unity -
And high above the Granite floor,
He made His image great
In profile He is watching o'er
New Hampshire Granite State.
Then he made the strongest rivers
carry melting sheets of snow
from the valleys and the hilltops
where the sea (cont..?) come and go.
He vent the purple finches,
and He marveled as they flew -
straight to New Hampshire borders
where the purple lilac grew
Until he made the oceans roar,
the tide was coming late
on shores of old New Hampshire,
old New Hampshire's Granite State.
Made the wind and little breezes
cooled the crystal lakes below
filled the streams and ev'ry forest
for the fireplace aglow.
Whenever in New Hampshire,
blazing colors from the trees -
you may not find His image
though you're standing much at ease -
but if you aim toward heaven's door,
you may pronounce it "late"
in silence He'll be waiting
in New Hampshire's Granite State
-- Copyright 1976 by ABC Publishing Company, Londonderrry, New Hampshire (lyrics are published here under Fair use for educational purposes).