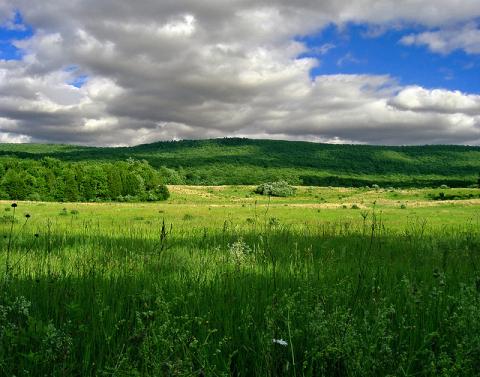 Scenic Walpack Valley, Sussex County, New Jersey (within the Delaware Water Gap National Recreation Area); photo by Nicholas A. Tonelli on Flickr (use permitted with attribution).
The Garden State
The official nickname for New Jersey is The Garden State. The origin of the nickname is hazy at best. Quote from the official New Jersey website:
"Alfred M. Heston, in his two-volume work, Jersey Waggon Jaunts (published in 1926), credits Abraham Browning of Camden with coining the name at the Centennial Exhibition in Philadelphia on New Jersey Day in 1876.
On page 310 of volume 2 he writes: 'In his address Mr. Browning compared New Jersey to an immense barrel, filled with good things to eat and open at both ends, with Pennsylvanians grabbing from one end and the New Yorkers from the other. He called New Jersey the Garden State, and the name has clung to it ever since.'
The problem with this theory is that the image of a barrel tapped at both ends dates back to Benjamin Franklin if not earlier, so crediting Browning with naming the Garden State can not be taken at face value."