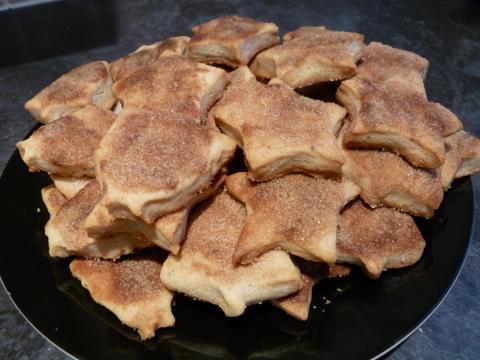 Homemade biscochito cookies; official state cookie of New Mexico.  Photo by Megan Eaves/Flickr (Use Permitted with Attribution/Share Alike).
Official State Cookie of New Mexico
New Mexico designated biscochito as the state cookie in 1989 to encourage traditional home-baked cooking. New Mexico was the first state to recognize an official state cookie symbol. All Food Symbols
A small anise and cinnamon flavored shortbread cookie, the biscochito cookie (called biscocho in southern New Mexico), was introduced by early Spaniards in the 16th century.
Biscochito cookies are used during special celebrations such as wedding receptions, baptisms, the Christmas season, and other holidays.
BISCOCHITOS RECIPE
This is the recipe for New Mexico's state cookie (from New Mexico Secretary of State):
Ingredients: 6 C. flour, 1/4 Tsp. salt, 3 Tsp. baking powder, 1 1/2 C. sugar, 2 Tsp. anise seeds, 2 eggs, 2 C. lard, 1/4 C. brandy, 1/4 C. sugar, 1 Tbsp. cinnamon
Directions: sift flour with baking powder and salt.In separate bowl, cream lard with sugar and anise seeds until fluffy.  Beat in eggs one at a time.  Mix in flour and brandy until well blended. Refrigerate 2-3 hours. Turn dough out on floured board and pat or roll to 1/4- or 1/2-inch thickness. Cut into shapes (the fleur-de-lis is traditional).Dust with mixture of sugar and cinnamon.  Bake 10-12 minutes at 350° or until browned.