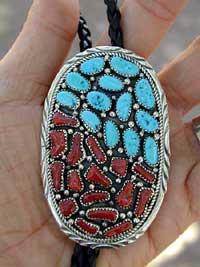 Turquoise and coral bola tie made by Navajo & Zuni Indians in Arizona or New Mexico; photo from Gold Mountain Mining Company (all rights reserved; used by permission).
Official State Gem of New Mexico
New Mexico designated turquoise as the official state gem in 1967. All State Gems & Gemstones
Nearly all important deposits of turquoise are located near copper deposits in arid desert regions of the world. Probably one of the oldest gemstones known, turquoise is an opaque, blue-to-green mineral. Only the prized robin's egg blue color is used to make gemstones. The majority of the world's finest-quality turquoise comes from western and southwestern United States (the largest producer of turquoise in the world).
Turquoise has been used extensively by Native Americans in the southwestern U.S. and Mexico since about 200 B.C. to make solid turquoise beads, carvings, and inlaid mosaics.