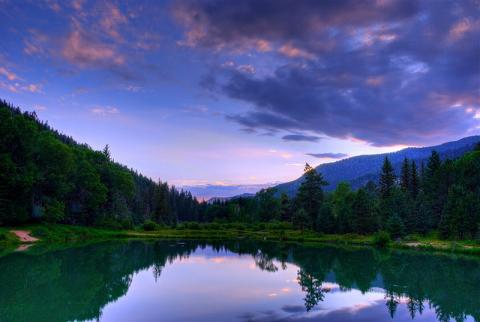 Sunset outside of Red River, New Mexico; photo by Jim Nix on Flickr (non-commercial use permitted with attribution / share alike).
Official State Ballad of New Mexico
New Mexico designated "Land of Enchantment" by Michael Martin Murphey (a resident of Taos, New Mexico) as the official state ballad in 1989. New Mexico also recognizes a state song, bilingual language song, cowboy song, and an official Spanish song. All State Songs
LYRICS
I met a lady in my drifting days
I quickly fell under the spell of her loving ways
A rose in the desert I loved her so
In the Land of Enchantment, New Mexico
As we watched the sunset by the Rio Grande
A mission bell rang farewell she took my hand
She said "come back amigo no matter where you go"
To the Land of Enchantment, New Mexico
From her arms I wandered, far across the sea
I often heard her gentle words haunting me
"Come back amigo, I miss you so"
To the Land of Enchantment, New Mexico