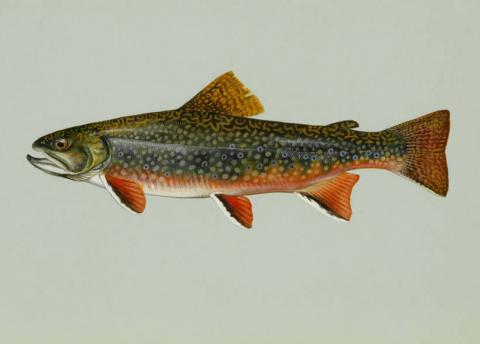 Southern Appalachian Brook Trout
North Carolina designated the southern Appalachian brook trout as the official freshwater fish in 2005 (channel bass is the state saltwater fish). Sometimes called "specks" because of their unique spotted appearance, the southern Appalachian brook trout is North Carolina's only native freshwater trout and a favorite of sport fishermen in the cold mountain streams of Western North Carolina. Eight states recognize brook trout as a state symbol: Michigan, New Hampshire, New Jersey, New York, Pennsylvania, Vermont, Virginia and West Virginia.
Brook trout live in cool, clean, pure water (they cannot survive pollution and contaminated waters). They are a popular game fish with anglers, particularly fly fishermen. Many anglers catch and then release the fish (to help preserve the few remaining populations). The sale of fishing licenses provides funding for restoration of streams and creeks to a habitat suitable for brook trout.
From Southern Appalachian Brook Trout Foundation:
"Compared to the size of the southern Appalachian region, viable southern Appalachian brook trout populations that currently exist throughout the Southern Appalachians are few and fragmented. The work to restore the Southern Appalachian brook trout is hugely important. As an indigenous species it is our regions only native salmonid. The recreational opportunities it affords sportsmen from all over the United States and the economic benefits to the area are many. It's contribution as a valuable water quality indicator in our upper high elevation watersheds is significant."