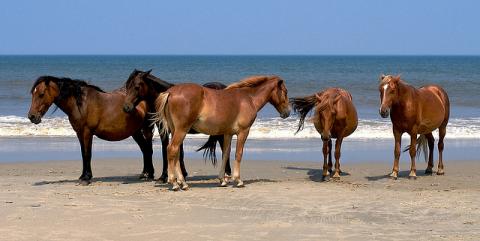 Wild Spanish Mustangs on the beach of Corolla, North Carolina; photo by Kevin Collins on Flickr (noncommercial use permitted with attribution / share alike).
Colonial Spanish Mustang
North Carolina designated the colonial Spanish mustang as the official state horse in 2010 after numerous requests from the students of Shawboro Elementary School in Currituck County and the Corolla Wild Horse Fund.
Wild horses have roamed North Carolina's Outer Banks for hundreds of years. They are direct descendants of Colonial Spanish mustangs brought by Spanish conquistadors beginning in the 16th century. They are presently critically endangered, in fact nearly extinct.