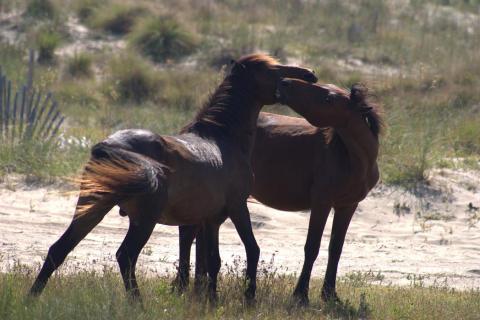 Wild Colonial Spanish mustangs; [file:field-file-main-description]  Photo by [file:field-file-photographer]/[file:field-file-source] ([file:field-file-license]).
Official State Horse of North Carolina
North Carolina designated the Colonial Spanish mustang as the official state horse in 2010 after numerous requests from the students of Shawboro Elementary School in Currituck County and the Corolla Wild Horse Fund. All State Horses
Wild horses have roamed North Carolina's Outer Banks for hundreds of years. They are the direct descendants of Colonial Spanish mustangs brought by Spanish conquistadors in the 16th century. These unique horses are critically endangered, in fact nearly extinct.
Corolla Wild Horse Fund has been instrumental in passing the Corolla Wild Horses Protection Act which guarantees the herd number of around 130 horses, a number needed to prevent genetic erosion which would endanger their reproduction.