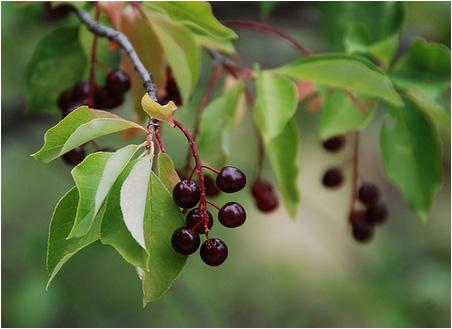 Chokecherries in the Black Hills forest region of South Dakota; photo © Iryna Dronova on Flickr (all rights reserved; used by permission).
Official State Fruit of North Dakota
6th graders from Nancy Selby's class at Rickard Elementary School in Williston, ND wrote a persuasive letter to North Dakota lawmakers proposing the chokecherry be designated the official state fruit. The letter inspired legislation and North Dakota designated the chokecherry (Prunus virginiana) as the official state fruit in 2007. Williston has hosted the North Dakota Chokecherry Festival annually to celebrate.
Chokecherries make delicious preserves, juice, jelly, and syrup. All State Foods & Beverages
A member of the rose family, the chokecherry is common across the state of North Dakota. Many wild animals eat the fruit and distribute the seeds of chokecherries. Although the leaves, bark, stem, and stone (seed pit) of the chokecherry are toxic, birds, rabbits, hares, rodents, and bears all seek out and eat its fruit.