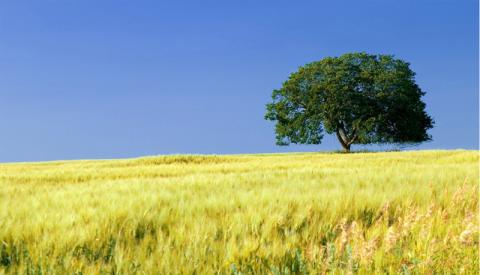 Scenic view in Minot, North Dakota; photo © 2007 Bob Mintie Photography (all rights reserved; used by permission).
Representative State Soil of North Dakota
Williams soil series is the unofficial state soil of North Dakota (each state in the United States has selected a representative soil and over twenty states have adopted their representative soil as an official state symbol). All State Soils
Williams soils are extensive and economically important soils to North Dakota. Level to gently-rolling areas with Williams soils are generally used as cropland (growing mostly wheat, barley, oats, flax, and sunflowers). Rolling and hilly areas of the more than 2.2 million acres of Williams soils in North Dakota are used primarily as range land.
Williams soils (the name is derived from Williams County, North Dakota) have natural fertility and a high content of organic matter. The native vegetation on Williams soils consists of western wheatgrass, blue grama grass, green needlegrass, needleandthread, and prairie junegrass.