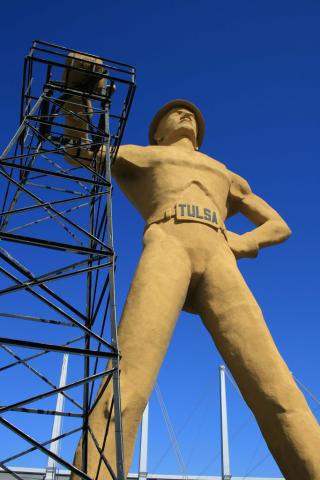 The Golden Driller monument; a landmark in Tulsa, Oklahoma.  Photo by jk42683/Flickr (Noncommercial Use Permitted with Attribution).
Official State Monument of Oklahoma
Along historic Route 66 in Oklahoma, "The Golden Driller" (statue of an oil worker in Tulsa) was designated the official state monument of Oklahoma in 1979. According to Tulsa city officials, this 43,500-pound tourist attraction is the largest free-standing statues in the US. All Oklahoma Symbols
76 feet tall and weighing about 22 tons, "The Golden Driller" monument is located outside the Tulsa Expo Center in Tulsa, a city once known as the "Oil Capital of the World." This giant statue is the most photographed landmark in Tulsa.
The inscription at base of statue reads: "The Golden Driller, a symbol of the International Petroleum Exposition. Dedicated to the men of the petroleum industry who by their vision and daring have created from God's abundance a better life for mankind."