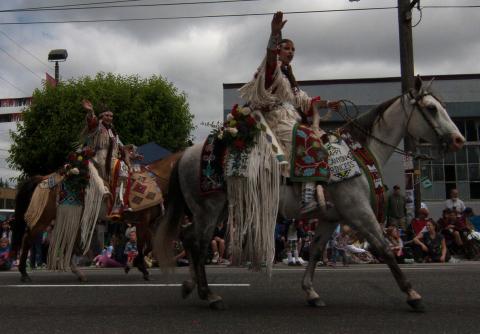 Happy Canyon Princess; Happy Canyon Indian Pageant and Wild West Show.  Photo by Eric Schneider/Flickr (Use Permitted with Attribution/Share Alike).
Oregon's Official Outdoor Pageant & Wild West Show
Oregon designated the Happy Canyon Indian Pageant and Wild West Show as the official outdoor pageant and wild west show in 2011. Oregon also recognized an official statehood pageant in 1987.  All State Holidays & Events
From happycanyon.com; "The Happy Canyon Pageant is a show depicting the settling of the American West, beginning with a portrayal of the Native American way of life prior to the arrival of the white man, continuing with the arrival of Lewis and Clark, followed by the prairie schooners of the pioneers of the Oregon Trail and concluding with a reenactment of a frontier town's rollicking main street mishaps."