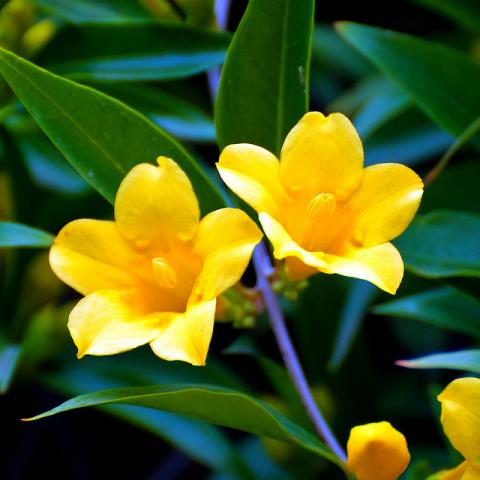 Carolina yellow jessamine flowers; photo by Images by John 'K' on Flickr (noncommercial use permitted with attribution / no derivative works).
Official State Flower of South Carolina
Yellow jessamine (Gelsemium sempervirens) was designated the official state flower of South Carolina in 1924. All State Flowers
Selected not only for the flower's beauty and sweet fragrance, but because Carolina jessamine is found throughout South Carolina and "its delicate flower suggests the pureness of gold; its perpetual return out of the dead winter suggests the lesson of constancy in, loyalty to, and patriotism in the service of the State" (quote from South Carolina legislature). Yellow jessamine is also featured on the South Carolina quarter.
Yellow Jessamine Facts
Yellow jessamine is a hardy evergreen flowering vine native to southeastern United States (sometimes referred to erroneously as "Carolina jasmine"). It is beautiful but all parts of the plant are poisonous.