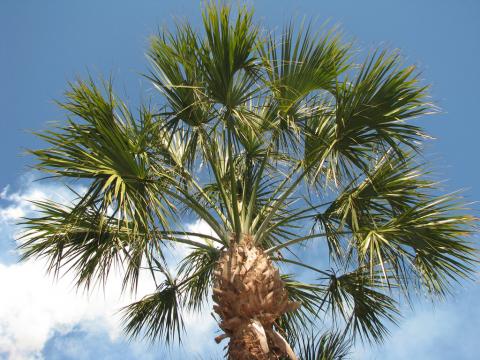 Cabbage palm tree (sabal palmetto); photo by Kerry Wixted on Flickr (noncommercial use permitted with attribution).
Sabal Palmetto
South Carolina designated the sabal palmetto (Inodes Palmetto) as the official state tree in 1939. The palmetto symbolizes the defeat of the British fleet at Fort Moultrie on Sullivan's Island. The fort was constructed of palmetto logs which were able to absorb the impact of cannon balls.
Sabal palmetto (commonly called cabbage palm) is a familiar symbol of South Carolina - in fact it's nickname is The Palmetto State. The sabal palmetto is also featured on the state flag, the great seal, and the U.S. Mint's bicentennial commemorative quarter for South Carolina.