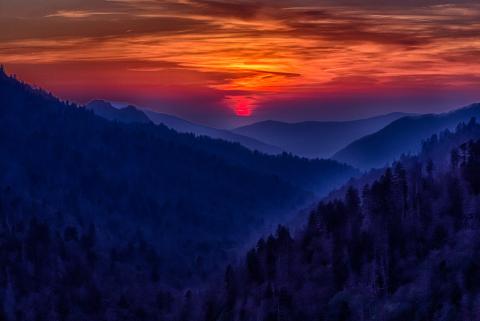 Smokey Mountain sunset vista; taken from Morton Overlook, about 3/4 mile north of Newfound Gap on Highway 441, Newfound Gap Road, Sevier, Tennessee (GPS Coordinates 35°37'1" N 83°25'22" W).  Photo by Tim Lumley/Flickr (Noncommercial Use Permitted with Attribution/No Derivative Works).
Official State Veterans Poem of Tennessee
Jasper N. Bailey's poignant "Home to Stay" was designated the official state veterans poem of Tennessee in 2014. Bailey, a native of Cookeville TN, was a highly decorated veteran of World War II. Tennessee recognizes several state poems and poets, including a state bicentennial poem and cowboy poet laureate. All State Poetry & Languages
Home to Stay by Jasper N. Bailey
O Tennessee, my Tennessee, the fairest land of all.
Throughout the years, I've journeyed far
but ever heard your call,
To come back to the place I love
and never more to roam,
and settle in that promised land,
the state I call my home,
So now I'm back and here to stay
with no more wars to fight.
These peaceful hills will usher in
a season of delight.
For God has blessed me, this I know
but why I cannot say.
Unless His grace has kept me safe
to celebrate this day.
And He will call me sometime soon
to place me where I'll be.
I hope it's like the fair, fair, land
in sunny Tennessee.