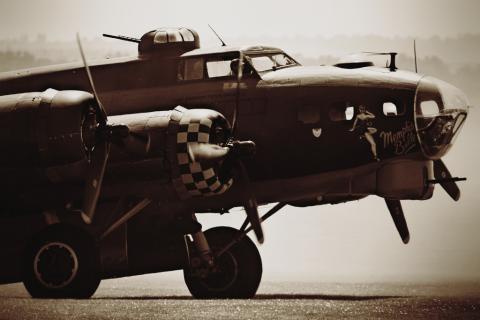 Memphis Belle; famous WWII Boeing B-17F airplane; recognized as a state symbol of Oklahoma.  Photo by Airwolfhound/Flickr (Use Permitted with Attribution/Share Alike).
Official State Airplane of Tennessee
In 2017 Tennessee designated the WWII aircraft known as the Memphis Belle as the official state airplane. All State Aircraft - All Military Symbols
The legislative bill states; "The Memphis Belle, a Boeing B-17F Flying Fortress, is arguably one of the five most famous aircraft in United States history." The Memphis Belle bomber flew 25 successful combat missions over France and Germany between 1942 and 1943, and was one of the first airplanes to return home with her crew after completing so many missions.
The Memphis Belle is currently undergoing restoration at the National Museum of the United States Air Force in Dayton, Ohio.