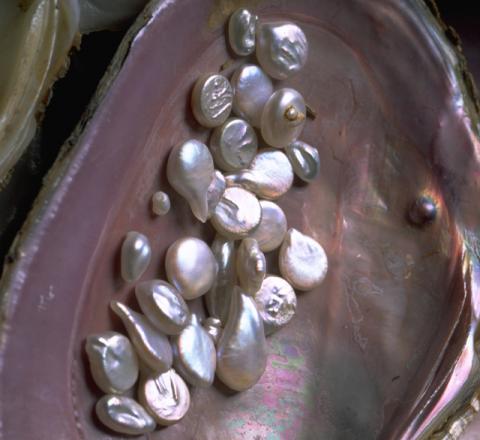 Tennessee river pearls; photo © TennesseeRiverPearls.com; North America's only freshwater pearl museum, farm, tour and pearl jewelry showroom in Camden TN: visit BirdsongResort.com 731-584-7880 (all rights reserved; used by permission).
Official State Gem of Tennessee
Tennessee river pearls were designated the state gem of Tennessee in 1979. All State Gems & Gemstones
River pearls are created by mussels and are found in all colors and various shapes (spherical, pear-shaped, and irregular). Tennessee river pearls are among the most beautiful and durable in the world.
After World War I, dams were built on many Tennessee rivers and the mussels lost their swift and shallow shoals. The waters also became more toxic. Tennessee river pearls are collected and crafted into rings, cuff links, stick pins, and other jewelry.