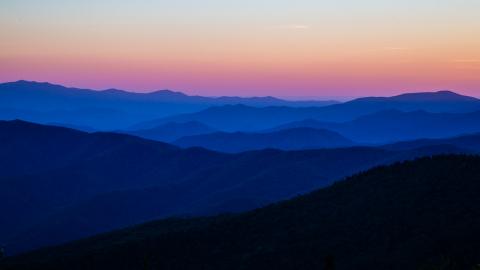 Sunset from Clingmans Dome in the Great Smoky Mountains National Park; Sevier, Tennessee.  Photo by John Getchel/Flickr (Noncommercial Use Permitted with Attribution).
Official State Declamation of Tennessee
"I Am Tennessee" by Major Hooper Penuel (a life-long resident of Middle Tennessee) was designated the official state declamation of Tennessee by House Joint Resolution No. 171 of the 95th General Assembly. The declamation was read at the inauguration of Governor Ned R. McWherter. All Tennessee Poetry & Poets
Declamation
My name came from Tanasie, the name of an Indian Cherokee village in the region. Early explorers once passed over and through my mountains and forests. Europeans fought to decide who should own me.
I AM TENNESSEE
Pioneers from the east crossed my mountains to settle in the wilderness. They formed their own governments in my region before any other independent governments existed in North America.
I AM TENNESSEE
Those pioneers brought with them the spirit of independence and daring that has become part of my history. I gained statehood on June 1st, 1796. President George Washington signed the bill that made me the sixteenth state of the union. John Sevier was my first Governor. My first United States Senators were William Blount and William Cocke. At this time my only seat in the House of Representatives was held by Andrew Jackson.
I AM TENNESSEE
My boundaries range from the mountains of North Carolina to Arkansas in the west. I link the north with the south. I was the last state to leave the union, and the first to return. I touch eight states, more than any other state in the union.
I AM TENNESSEE
Tennesseans like John Sevier in the Revolutionary War, Andrew Jackson in the War of 1812, and Alvin C. York in World War I, established a military tradition of honor and bravery that continues to this day.
I AM TENNESSEE
I felt more battles on my soil than any other state except Virginia, my neighbor to the east. I have produced three Presidents; Andrew Jackson, James K. Polk, and Andrew Johnson. All distinguished themselves in the true Tennessee tradition.
I AM TENNESSEE
Two of my early residents - Davy Crockett and Sam Houston - became heroes of the Texas Revolution. Each carried the true Tennessee Volunteer spirit. I'm known worldwide as the Volunteer State. John Sevier called for 100 good men. 200 answered the call. For this I will always be grateful.
I AM TENNESSEE
Today, we have 19,000 Guard men and women serving as volunteers in the Tennessee National Guard, once known as the Militia. Each one is ready to answer the call of the Governor or the President to defend this great land. 
I AM TENNESSEE
My land is rich with rugged mountains and thick forests in the eastern and central region. It produces excellent recreation for hunters, campers and sightseers. The majestic beauty of the Great Smoky Mountains attracts 6 million visitors every year. My lakes and rivers provide excellent boating and fishing or just for relaxing.
I AM TENNESSEE
My fertile soil, thick forests, temperate climate, water supply and an abundance in minerals makes my state rich in natural resources. Manufacturing, agriculture and mining are all important parts of my makeup. TVA generates my electricity. Early in my history, between 1800 and 1860, private companies built turnpikes and collected tolls to keep them up. In 1913 my leaders passed legislation to construct major highways. Today I have over 8,000 miles of highways and roads. I have about 125 airports, almost 6,000 miles of track for trains, and barges float my major rivers, The Cumberland, The Mississippi, and The Tennessee.
I AM TENNESSEE
My music is heard around the world. Blues, soul, and rock and roll from the Memphis Delta, Country from Nashville, and the unique sound of the dulcimer from Appalachia. Yes, my history is a proud one. From my early beginnings as an unsettled territory until today as a leader and a state that looks toward the future.
I AM TENNESSEE
Memphis, Chattanooga, Knoxville and the Capitol City of Nashville are my largest cities, but I couldn't survive without the 3,000 communities and the 95 counties in-between. From the delta river banks of Memphis to Bristol, and from Frog Mountain near Copperhill to the Reelfoot Lake near Tiptonville, 4.6 million residents keep me going.
I AM TENNESSEE
For almost two centuries I have held my own. My future looks bright. I am a great place in which to live. I am a Volunteer.
I AM TENNESSEE