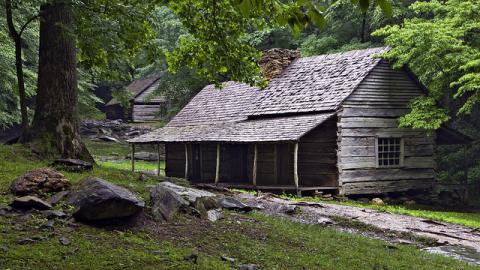 Bud Ogle Place at Great Smoky Mountains National Park; photo by John Britt on Flickr (noncommercial use permitted with attribution / share alike).
Official State Song of Tennessee
Tennessee designated "Smoky Mountain Rain" written by Nashville songwriters Kye Fleming and Dennis Morgan, and performed by Ronnie Milsap, as an official state song in 2010. Official Tennessee Songs - All State Songs
Lyrics
I thumbed my way from LA back to Knoxville
I found out those bright lights
Aint where I belong
From a phone booth in the rain
I called to tell her
I've had a change of dreams I'm comin' home
But tears filled my eyes
When I found out she was gone
VERSE 2
I waved a diesel down outside a cafe
He said that he was goin' as far as Gatlinburg
I climbed up in the cab
All wet and cold and lonely
I wiped my eyes and told him about her
I've got to find her!
Can you make these big wheels burn?
VERSE 3
I can't blame her for lettin' go
A woman needs someone warm to hold
I feel the rain runnin' down my face
I'll find her no matter what it takes!
CHORUS
Smoky Mountain rain keeps on fallin'
I keep callin' her name
Smoky Mountain rain I'll keep searchin'
I can't go on hurtin' this way
She's somewhere in the Smoky Mountain rain