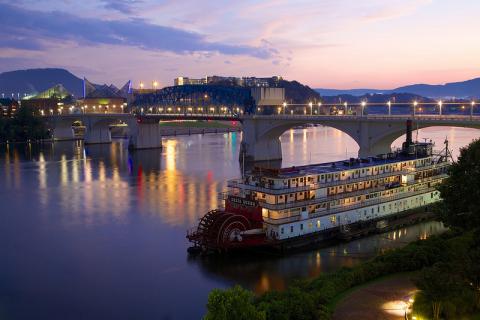 Delta Queen riverboat in Chattanooga, TN; photo by Dave Lawrence on Flickr (noncommercial use permitted with attribution / share alike).
Official State Song of Tennessee
"Tennessee" by Vivian Rorie was designated an official state song of Tennessee in 1992. Tennessee State Songs - All State Songs
LYRICS
I do not know of another state
Where I had rather be 
Than this great state I'm living in 
And that is Tennessee.
I love the stars dearly
And there are surely three 
That show the Grand Division 
Of my home-land, Tennessee.
Where could you find a meadow
With grass so vividly green?
Where could you find the mountains 
With such majestic scene?
You will never find so bright a moon
To shine down from above
You will also see the robin 
The wren, and the turtle dove.
And don't forget the rivers 
Where visitors long to stay. 
And many have voice in parting,
'I'm sure glad I passed this way.'
You will see the cattle grazing
Beside a cotton field; 
And there's the Grand Ole Opry
And a feeling it's all God's will.
I have lived here all my life 
It's where I'm going to be 
Although I've traveled quite a bit,
I'll still take Tennessee!
Oh, I sure love the state I'm in: 
The great state of Tennessee!"