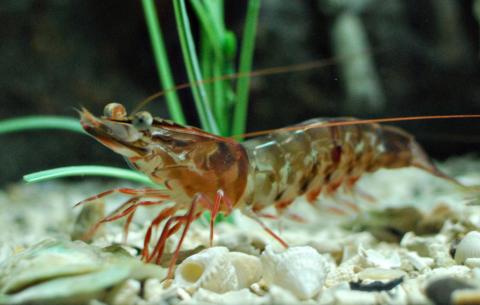 Brown shrimp - the official state crustacean of Alabama and Texas. Photo by samandla on Flickr (all rights reserved; used by permission).
Brown shrimp; [file:field-file-main-description]  Photo by /[file:field-file-source] ([file:field-file-license]).
Official State Crustacean of Texas
Texas Gulf shrimp was designated the official state crustacean of Texas in 2015. Alabama also recognizes shrimp as a state symbol. All Aquatic-Life Symbols
According to the Texas Shrimp Association, "brown shrimp (Penaeus aztecus), white shrimp (P. setiferus) and pink shrimp (P. duorarum) make up the bulk of Texas shrimp landings."
House Concurrent Resolution
WHEREAS, Americans love to eat the humble but tasty shrimp, and the shrimp caught off the Gulf Coast of Texas is among the most coveted of the varieties enjoyed by diners across the nation; and
WHEREAS, Approximately 90 percent of the shrimp consumed by Americans is imported from foreign tank farms, which makes Gulf shrimp a special treat; these low-calorie sources of protein can be served in many ways, either boiled, deep-fried, grilled, or pan-fried, and they are an excellent source of selenium, iron, zinc, and vitamins D and B12, as well as omega-3 fats; the average American eats more than four pounds of shrimp each year; and
WHEREAS, More than 80 percent of the shrimp harvested in the United States comes from the Gulf of Mexico, and Texas ranks as one of the leading producers of wild-caught shrimp, shipping large quantities of this healthy and sustainable food to restaurants and grocery stores nationwide; the Texas seafood industry generates more than $850 million in sales each year and accounts for over 14,000 jobs, and Gulf shrimping has become a way of life for many families in such communities as Port Arthur, Galveston, Palacios, and Port Isabel; and
WHEREAS, Like barbecue and Tex-Mex, the shrimp caught off the Gulf Coast of Texas has become one of the signature foods of Lone Star cuisine and an essential part of the economy and the cultural heritage of our state; now, therefore, be it
RESOLVED, That the 84th Legislature of the State of Texas hereby designate the Texas Gulf shrimp as the Official State Crustacean of Texas.