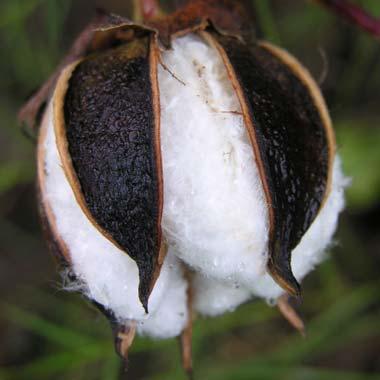 Boll opening to reveal cotton inside; photo by Judy Baxter on Flickr (noncommercial use permitted with attribution / share alike).
Official State Fiber & Fabric of Texas
Cotton was designated the official state fiber and fabric of Texas in 1997. Cotton was first grown in Texas by Spanish missionaries; the missions at San Antonio in 1745 reported growing, spinning and weaving several thousand pounds of cotton annually. All Agricultural Symbols
Beginning in 1872, thousands of immigrants from the Deep South and from Europe poured into the Blackland Prairie of Central Texas and began growing cotton. Some of the newcomers bought small farmsteads, but most worked as tenant farmers or sharecroppers for landowners who controlled spreads as large as 6,000 acres.
HOUSE CONCURRENT RESOLUTION
WHEREAS, The Lone Star State is world renowned for the abundance, variety, and excellence of its agricultural output, and throughout the state's history cotton has been a mainstay of the Texas economy and culture; and
WHEREAS, The state's largest cash crop, cotton is planted on more acres than any other agricultural product in Texas, and the preeminence of the United States in world cotton production is due largely to the quantity produced within the state's borders; the magnitude of this contribution is reflected in the fact that, if Texas were an independent country, it would rank sixth among the world's cotton producers; and
WHEREAS, Through the years, cotton has become closely identified with Texas in the popular mind; countless works of art, music, literature, and history have reaffirmed the importance of cotton to the development of the state, and the tradition of Texas producing the nation's first bale of cotton each year aptly symbolizes this deep connection; and
WHEREAS, Cotton is deservedly one of the world's most popular fabrics, combining durability, versatility, and remarkable comfort; particularly well suited to the Lone Star State's unique range of climatic conditions, cotton clothing is a typically Texan tradition, and its many virtues underscore the fiber's importance to the state; and
WHEREAS, Cotton is universally acknowledged as an essential element of the Lone Star State's history and heritage, and it is indeed fitting that this close relationship be recognized at this time; now, therefore, be it
RESOLVED, That the 75th Legislature of the State of Texas hereby designate cotton the Official State Fiber and Fabric of Texas.