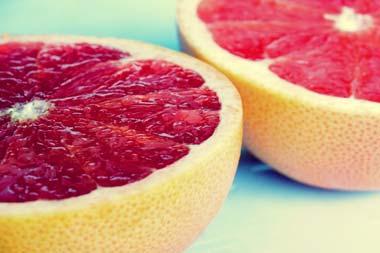 Official State Fruit of Texas
Texas red grapefruit was designated the official state fruit of Texas in 1993. All State Foods
A fairly new citrus, grapefruit is believed to be a cross between a pummelo and an orange. Texans have grown grapefruit in the Rio Grande Valley for about 100 years. Around 1929 a mutation on a single tree became the famed Texas Ruby Red, which received the first-ever patent awarded to a grapefruit.
The grapefruit family includes white, red (sweeter than white), pummelo (father of the grapefruit and the largest citrus), minneola (cross between tangerine and grapefruit), and sweeties (cross between the pummelo and the grapefruit).
HOUSE CONCURRENT RESOLUTION
WHEREAS, The State of Texas has traditionally recognized a variety of official state symbols as tangible representations of the proud spirit and heritage of our state; and
WHEREAS, The bluebonnet, the pecan tree, and the mockingbird are examples of natural specimens that serve to exemplify the great diversity of the Texas landscape, while the state dish, chili, fittingly represents another aspect of our shared culture as Texans; and
WHEREAS, In keeping with this custom, the designation of the Texas Red Grapefruit as the official State Fruit of Texas will provide suitable recognition for this outstanding food resource;  and
WHEREAS, First discovered by Texas citrus growers in 1929, this variety of grapefruit has been carefully nurtured and perfected over time and is renowned for its sweetness and rich, red interior; and
WHEREAS, As nutritious as it is palate-pleasing, the Texas Red Grapefruit contains no fat or sodium, lowers high levels of blood cholesterol, boosts iron absorption, is low in calories, and is rich in vitamin C; and
WHEREAS, This delicious fruit also is a boon to the state economy, generating more revenue than any other tree fruit produced within our borders; and
WHEREAS, As distinctive as the proud state from which it originates, the Texas Red Grapefruit will serve as a fitting emblem for the bounties of nature with which our state is blessed; now, therefore, be it
RESOLVED, That the 73rd Legislature of the State of Texas hereby designate the Texas Red Grapefruit as the official State Fruit of Texas.