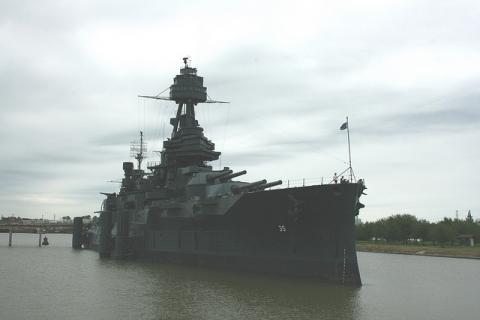 Official State Ship of Texas
Texas designated the U.S.S. Texas as the official state ship in 1995 (Texas also recognized an official state tall ship in 2005). All State Vessels & Aircraft
The U.S.S. Texas is a national historic landmark placed under the stewardship of Texas Parks and Wildlife Department.
Senate Concurrent Resolution
WHEREAS, The State of Texas has traditionally recognized a variety of official state symbols that embody the proud spirit and unique heritage of our state; and
WHEREAS, The bluebonnet, the pecan tree, and the mockingbird are examples of some natural specimens that serve to symbolize the great diversity of the Texas landscape, while the state dish, chili, fittingly represents another aspect of our shared culture as Texans; and
WHEREAS, In keeping with this custom, the designation of the battleship Texas as the official State Ship of Texas will provide suitable recognition for this historic symbol of Texas' indomitable spirit; and
WHEREAS, Commissioned in the Norfolk Navy Yard on March 12, 1914, the U.S.S. Texas served in the Atlantic theater during World War I; later, from 1925 to 1926, the Texas was modernized and served as a fleet flagship for the United States Navy; and
WHEREAS, In 1939, this exceptional vessel was chosen as the flagship of the Atlantic Training Squadron and one year later was designated as the flagship for the commander of the Atlantic Fleet, Admiral Ernest J. King; and
WHEREAS, During World War II, the Texas served her country with great distinction, transporting troops to Europe, Africa, and the Panama Canal Zone while negotiating some of the most dangerous waters of the war; this remarkable ship was unique throughout the world in that it participated in five major Allied invasions in three separate theaters of combat:  North Africa, Southern France, Northern France, Okinawa, and Iwo Jima; and
WHEREAS, Nicknamed "The Mighty T," the Texas is perhaps best known as the command ship for the bombardment of Omaha Beach, on whose historic sands American soldiers displayed unflinching bravery in the face of withering enemy fire to begin the long-awaited liberation of France; and
WHEREAS, During her entire record of distinguished service to the United States, the Texas experienced only one fatality and 14 wounded while off the coast of Cherbourg, France; following her retirement from service, "The Mighty T" was given to the State of Texas, and today she is moored near the San Jacinto Battleground State Historical Park; and
WHEREAS, The U.S.S. Texas performed a vital role in the success of many critical missions during peacetime and both world wars, epitomizing the strength, resolve, and gritty determination of her namesake state; this year, as we commemorate the 50th anniversary of the end of World War II, it is indeed appropriate that this mighty vessel be given special legislative recognition as an official symbol of the Lone Star State; now, therefore, be it
RESOLVED, That the 74th Legislature of the State of Texas hereby designate the battleship Texas as the official State Ship of Texas.