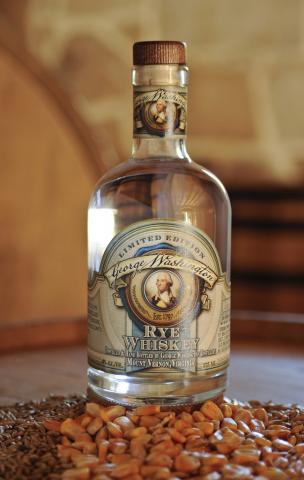 George Washington Rye Whiskey; Virginia's official state spirit.  Photo by VCU CNS/Flickr (Noncommercial Use Permitted with Attribution).
Official State Spirit of Virginia
Virginia designated "George Washington Rye Whiskey" as the official state spirit on March 16, 2017 (distilled and hand-bottled by George Washington Distillery in Mount Vernon, Virginia). All State Foods & Beverages
Code of Virginia
Whereas, George Washington was a native son of Virginia born on February 22, 1732, in Pope's Creek, Virginia; and
Whereas, George Washington was the first American president, commander of the Continental Army, and president of the Constitutional Convention; and
Whereas, George Washington served as a model statesman and is universally acknowledged as the father of our nation; and
Whereas, another aspect of George Washington's life was his business activities as a gentleman planter; and
Whereas, from his home at Mount Vernon, which was also a working farming operation, George Washington participated in many business ventures; and
Whereas, George Washington's venture into the rye whiskey business began at the urging of his farm manager, James Anderson, who had been involved in the distilling industry in Scotland before immigrating to America in the early 1790s; and
Whereas, James Anderson was convinced that a distilling business would complement Mount Vernon's other economic ventures, and George Washington agreed; and
Whereas, initially George Washington proceeded cautiously, allowing James Anderson to purchase two stills and set up a small operation in the cooperage next to the gristmill located at the property in early 1797; and
Whereas, this first endeavor produced 600 gallons of rye whiskey; and
Whereas, two years later, in 1799, the year of George Washington's death, his distillery produced nearly 11,000 gallons, making it the largest whiskey distillery in America at the time; and
Whereas, it is fitting to acknowledge yet another accomplishment of this son of Virginia and father of the nation whose efforts produced a spirit that embodies the spirit of Virginia; now, therefore,
Be it enacted by the General Assembly of Virginia: 1. That § 1-510 of the Code of Virginia is amended and reenacted as follows:
§ 1-510. Official emblems and designations ... Spirit -- George Washington's rye whiskey produced at Mount Vernon, Virginia ...
Code of Virginia: 2017 Session, CHAPTER 576, § 1-510