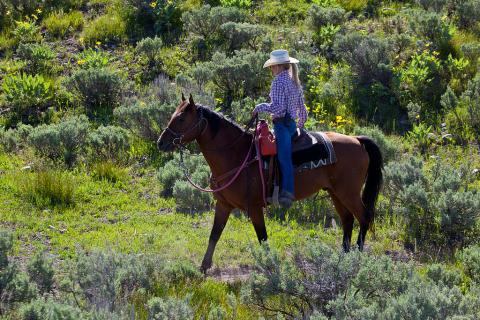 Wyoming cowgirl; riding on the range near Jackson.  Photo by alh1/Flickr (Use Permitted with Attribution/No Derivative Works).
Official State Holiday of Wyoming
On December 10 Wyoming celebrates "Wyoming Day." All State Holidays
Wyoming Statutes, Chapter 4
LEGAL HOLIDAYS
"In recognition of the action of the Wyoming territorial governor on December 10, 1869, in approving the first law found anywhere in legislative history which extends the right of suffrage to women, December 10 of each year is designated as "Wyoming Day." The day shall be observed in the schools, clubs and similar groups by appropriate exercises commemorating the history of the territory and state and the lives of its pioneers, and by fostering in all ways the loyalty and good citizenship of its people."