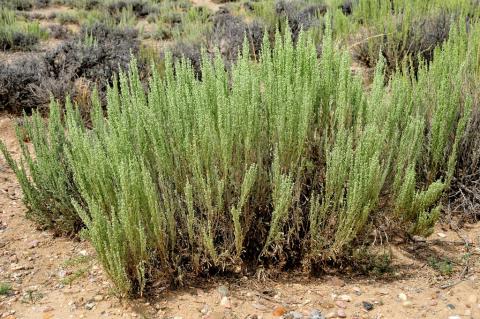 Wyoming big sagebrush; Artemesia tridentata ssp. wyomingensis.  Photo by USFWS Mountain-Prairie/Flickr (Use Permitted with Attribution).
Official State Shrub of Wyoming
In 2016 Governor Matt Mead signed into law a measure designating Wyoming big sagebrush (Artemisia tridentata wyomingensi) as the official state shrub. Wyoming also recognizes a state grass. All State Plants
The new state symbol was championed by a Hulett High School biology class, who approached lawmakers to sponsor it (many students attended the bill-signing ceremony in Cheyenne). Students testified that many native wildlife species rely on Wyoming big sagebrush, and it also makes Wyoming soil more fertile and prevents erosion.
Wyoming big sagebrush flowers in late summer and early fall. The flower heads are not showy and the sage colored flowers against the sage colored leaves are not noticed by most.