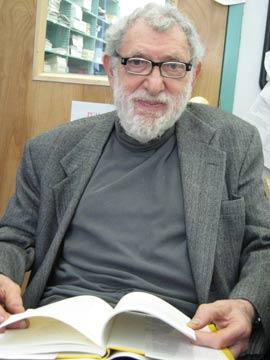 Poet John Hollander during audio interview with Nigel Beale at the 2008 Philadelphia Book Festival (John was CT poet laureate 2007-2011. Photo by Nigel Beale on Flickr (used by permission).
Poet Laureate of Connecticut
 Poet laureate is an honorary five-year position established by the Connecticut legislature in 1985. The poet laureate functions as an advocate for poetry for the state. The Commission on Culture and Tourism appoints a resident of Connecticut as the state poet laureate based on recommendations from a panel of poets and other literary professionals.
Connecticut Poet Laureate 2010-2015: Dick Allen
State Poet Laureate for 2010 - 2015 is Dick AllenDick Allen, one of America's leading poets, is preeminent among poets who encourage new sensibilities in poetry and who have brought to contemporary poetry a large array of subjects other than the "self" and styles other than confessional free verse. 
Connecticut Poet Laureate 2007-2011: John Hollander
John Hollander (October 28, 1929 – August 17, 2013) was an American poet and literary critic. At the time of his death he was Sterling Professor Emeritus of English at Yale University, and previously taught at Connecticut College, Hunter College, and the Graduate Center, CUNY.
Past State Poet Laureates
2001-2006 Marilyn Nelson
1996-2001 Leo Connellan
1985-1995 James Merrill