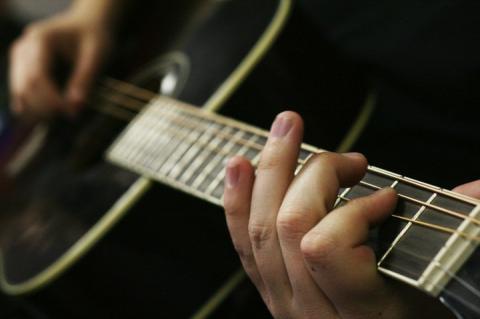 Guitarist; Connecticut's official troubadours usually play at least one stringed instrument in their performances as ambassador of music and song.  Photo by Photo4jenifer/Flickr (Use Permitted with Attribution/No Derivative Works).
Official State Troubadour of Connecticut
Connecticut established the official State Troubadour position in 1991, designating Tom Callinan as the first to be so honored.  The State Troubadour is an ambassador of music and song, encouraging cultural literacy and promoting the state of Connecticut. All State Awards - Arts & Drama Symbols
2022-2025 Kala Farnham "Armed with a voice and an entourage of instruments, songstress Kala Farnham set out into the world with one vision: To inspire through the transformative power of musical storytelling. Farnham has garnered numerous awards and recognition, including serving as the current Connecticut State Troubadour, 2020 Falcon Ridge Festival Emerging Artist, 2020 Great American Song Contest Finalist, and 2019 Rose Garden Performing Songwriter Contest winner. Farnham's 2020 album, "Your Spirit Is a Work of Art", is composed of thirteen musical vignettes exploring the imperfect beauty of the human condition; it has been described by Nick Noble of The Folk Revival as "a work of poetic insight… worth listening to again and again." Drawing from a classical education and professional career in musical theater, Kala presents a hallmark reinvention of the folk tradition: her lush musical arrangements, compelling vulnerability, and vivid storytelling draws her audience into imaginative vantagescapes of the familiar world."
2018-2021 Nekita Waller Nekita was selected as the 17th State Troubadour. "Music is my purest form of communication. It doesn't care how much money you have, where you were born, the color of your skin, or how old you are," notes Nekita. "There is no greater feeling or purpose than to help another person. Whether it is to make someone smile, dance, brighten their day or help them reach a better level of themselves, this is life's greatest award."
2016-2018 Kate Callahan. "Kate was selected as Connecticut's 2016-2018 State Troubadour because of her captivating voice, strong musicianship, compelling personal story and love of and commitment to Connecticut" (CT.gov). The Boston Globe said: "Kate Callahan has garnered an appreciative audience with her easygoing vibe and inspirational, at times mystical lyrics."
2013-2015 Kristen Graves. The Connecticut Office of the Arts announced Kristen Graves of Fairfield as Connecticut's State Troubadour for a two-year term, from January 2013 to December 2014.
2011-2012 Chuck Costa. The Connecticut Commission on Culture & Tourism announced that Chuck Costa of Madison as Connecticut's State Troubadour for a two-year term, from January 2011 to December 2012.
2009-2010 Lara Herscovitch. The Connecticut Commission on Culture and Tourism appointed singer-songwriter Lara Herscovitch of Durham, CT as State Troubadour for 2009-2010. Lara's music is an original blend of acoustic/folk, flavored with pop, Latin, jazz, and blues. Lara Herscovitch was recommended by a panel of music professionals which included the 2007-2008 state troubadour, Pierce Campbell.
2007-2008 Pierce Campbell
2005-2006 Thomasina Levy
2003-2004 Dennis Waring
2001-2002 Kevin Briody
1999-2000 Hugh Blumenfield
1998 Jeff and Synia McQuillan
1997 Sally Rogers
1996 Mike Kachuba
1995 Bill Pere
1994 Phil Rosenthal
1991-1992 Tom Callinan. Tom Callinan is a full-time singer/storyteller/multi-instrumentalist/folk-musician/sea-chanteyman/and Arts-In-Ed. Specialist - presenting over 200 performances annually to audiences of all ages
CONTRIBUTORS: Content for this article was submitted by Tom Callinan, 1st Connecticut Troubadour.