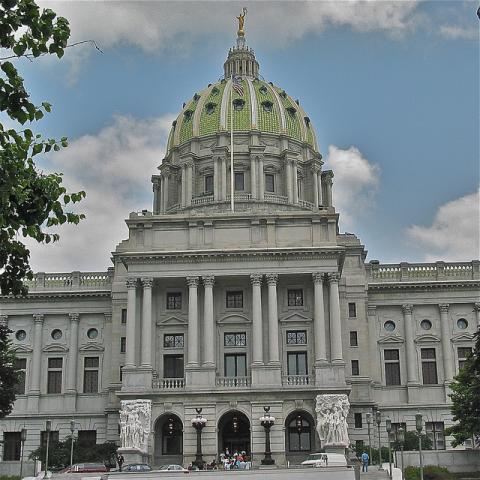 Pennsylvania State Capitol building. Photo by Don Shall on Flickr (noncommercial use permitted with attribution / no derivative works).
Pennsylvania's Capitol - A National Historic Landmark
The Capitol building in Harrisburg is a national historic landmark. Pennsylvania's Capitol is a public building belonging to the citizens of the Commonwealth. It is also a priceless architectural and artistic treasure, a majestic symbol of history and power, and an icon of democracy and freedom.
When President Theodore Roosevelt attended the dedication of the building on October 4, 1906, he said, "This is the handsomest building I ever saw." The Capitol was designed in the American Renaissance style by Philadelphia architect Joseph Miller Huston (1866-1940), who envisioned the building as a "Palace of Art." – From the official website of the Capitol.