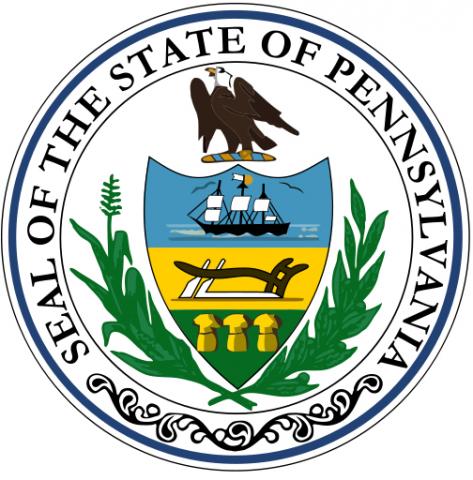 State seal of Pennsylvania; image by Henrik on Wikipedia (use permitted with attribution / share alike).
Official State Seal of Pennsylvania
The state seal of Pennsylvania has two faces: the obverse is most often referred to as the "state seal;" the reverse, or counter-seal, is used less frequently to authenticate documents. All State Seals
Obverse
The main face of the seal is identical to the coat of arms, without the horses and motto banner. The shield displays a sailing ship (carrying state commerce to all parts of the world), a clay-red plow (signifying Pennsylvania's rich natural resources), and three sheaves of wheat (suggesting fertile fields and Pennsylvania's wealth of human thought and action).
To the left of the shield is a stalk of Indian corn; to the right, an olive branch (signifying peace and prosperity). The shield's crest is an eagle; and the design is encircled by the inscription "Seal of the State of Pennsylvania."
Reverse
The counter-seal portrays liberty vs. tyranny. A woman represents liberty; her left hand holds a wand topped by a liberty cap (a French symbol of liberty), her right hand holds a drawn sword. She is trampling upon Tyranny, represented by a lion. The entire design is encircled by the legend "Both Can't Survive."