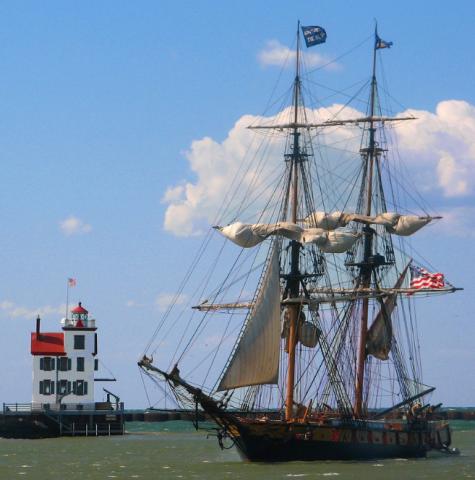 Restored tall ship U.S. brig Niagara passes the Lorain lighthouse on Lake Erie; photo by Rona Proudfoot on Flickr (use permitted with attribution / share alike). 
Official State Flagship of Pennsylvania
The restored United States Brig Niagara is the official Flagship of Pennsylvania, adopted in 1988. Niagara was Commodore Oliver Hazard Perry's two-masted flagship, pivotal in the naval battle of Lake Erie to regain control of the upper Great Lakes from the British during The War of 1812. All State Ships
As an ambassador of the city of Erie and the state of Pennsylvania, the US Brig Niagara visits ports on the Great Lakes and the Atlantic Seaboard, giving people an opportunity to share in this unique piece of history. The United States Brig Niagara is listed on the National Register of Historic Places.