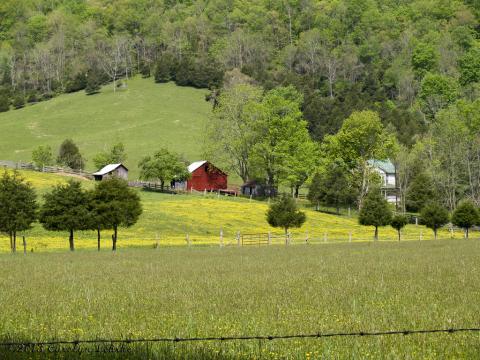 Rural West Virginia; scenic, fertile land.  Photo by Carolyn Lehrke/Flickr (Noncommercial Use Permitted with Attribution/No Derivative Works).
Official State Soil of West Virginia
West Virginia designated Monongahela silt loam as the official state soil in 1997. All State Soils
Monongahela soils are used primarily for pasture, cultivated crops, and industrial and residential sites. Common crops include corn, soy beans, and wheat. Pasture acres have a mixture of grasses and legumes. Forest acreage is limited; common trees growing on wooded areas include red oak, white oak, yellow-poplar, sycamore, white pine, and Virginia pine.
The Monongahela series was first established in Greene County, Pennsylvania, 1921. Monongahela soils occur in West Virginia, Virginia, Tennessee, Pennsylvania, Ohio, Maryland, Kentucky, and Alabama.
House Concurrent Resolution NO. 10
WHEREAS, It appears that each of a growing number of states of the United States, having significant concern for soil, has by legislative enactment chosen a particular soil as its official state soil; and
WHEREAS, The State of West Virginia has significant concern for its soil resources; and
WHEREAS, Soils enhance the quality of surface and groundwaters and serve as the foundation for our bountiful agriculture, our unique wildlife habitats, our beautiful landscapes, and the homes and communities of our citizens; and
WHEREAS, Soils are essential to the quality of life and welfare of all West Virginians; and
WHEREAS, Monongahela Silt Loam (fine-loamy, mixed, mesic Typic Fragiudult) covers over 100,000 acres in 42 counties throughout West Virginia, is used extensively for crops, hay, pasture, woodland, housing and its prime farmland on slopes of 3 percent or less; and
WHEREAS, The State of West Virginia has yet to designate a state soil; therefore, be it
RESOLVED by the Legislature of West Virginia: That Monongahela Silt Loam is hereby designated and declared to be the official state soil.