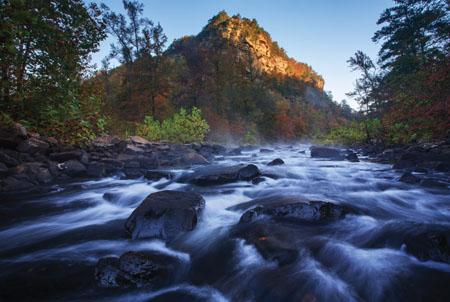 Little River Canyon Preserve, Alabama; photo by Outdoor Alabama on Flickr (noncommercial use permitted with attribution / no derivative works).
Poet Laureate of Alabama
Alabama Legislature created the honorary office of Poet Laureate of Alabama in 1931. A suitable candidate for poet laureate honoree is designated by the Alabama Writers' Conclave (a voluntary organization of Alabama historians, playwrights, fiction writers, poets, and newspaper writers). The name is certified by the governor, who then issues a commission to the poet laureate.   
Poets Laurete of Alabama
Andrew Glaze 2013-2017
Sue Walker 2003-2012
Helen Norris 1999-2003
Helen Friedman Blackshear 1995-1999
Ralph Hammond 1992-1995
Morton Dennison Prouty Jr. 1988-1991
Carl Patrick Morton 1983-1987
William Young Elliott 1975-1982
Bert Henderson 1959-1974
Mary B. Ward 1954-1958
Samuel Minturn Peck 1930-1938