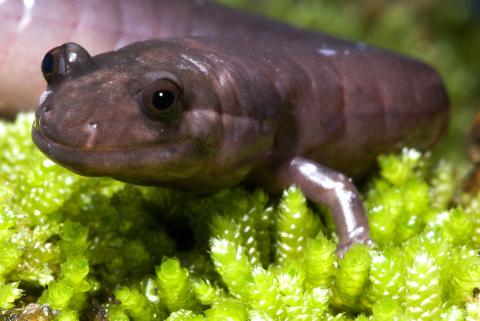 Endangered Red Hills salamander; [file:field-file-main-description] Photo by [file:field-file-photographer]/[file:field-file-source] ([file:field-file-license]).
Official State Amphibian of Alabama
The endangered Red Hills salamander was recognized as the official state amphibian of Alabama in 2000 after a campaign led by the third graders at Fairhope Elementary School (guided by teachers Susan Sims, Ann Agerton and Amy Jones). All State Amphibians.
Red Hills Salamander Facts
The Red Hills salamander (Phaeognathus hubrichii) is thought to exist only in a 50,000 - acre area of southern Alabama. Because of this extremely limited range, low productive rates, specific habitat requirements, and loss of habitat from logging and other practices, the Red Hills salamander is facing extinction - it has been under federal protection since 1976.
This rare and elusive salamander was not known to exist until 1960, when Leslie Hubricht, a renowned expert on land snails, accidentally discovered the first one while searching for snails in the Red Hills of Alabama. It was not only a new species, it was the first new salamander genus discovered in North America since 1939. The salamander was named Phaeognathus hubrichti after Mr. Hubricht. A second specimen wasn't obtained until 1963.
In 1991, the International Paper Company initiated the Habitat Conservation Plan for the Red Hills salamander. Working closely with the U.S. Fish & Wildlife Service, the habitat of the salamander is protected and assured. International Paper has raised awareness with other companies and several have initiated similar plans to protect this unique symbol of Alabama.