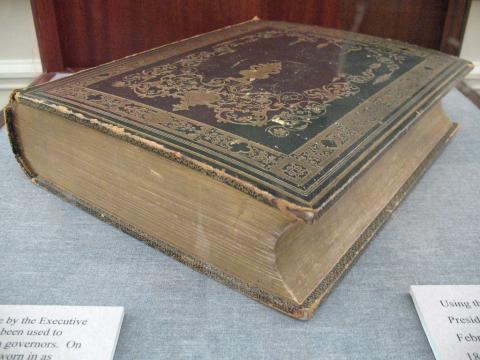 The official state bible of Alabama; photo © Will Eckrich on Flickr (all rights reserved; used by permission).
Official state bible of Alabama;    Photo by [file:field-file-photographer]/[file:field-file-source] ([file:field-file-license]).
Official State Bible of Alabama
The Alabama Executive Department purchased this bible in 1853. All Cultural Heritage Symbols
This historic bible was used to swear in Jefferson Davis as the President of the Confederate States of America on February 18, 1861. Each of Alabama's governors has used this same bible to be sworn in since 1853.
When not in use for an inauguration, the historic bible is kept on display at the Alabama Department of Archives and History in Montgomery (Nineteenth Century Gallery).