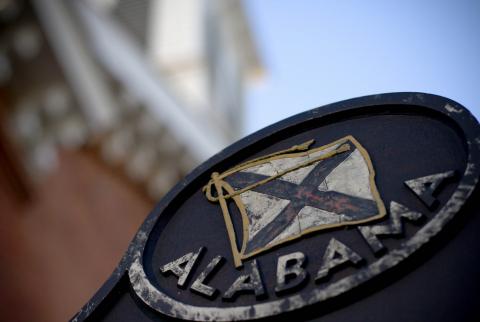 Alabama symbol on civil rights marker; Montgomery AL. Photo by Christa Lohman/Flickr (Noncommercial Use Permitted with Attribution/No Derivative Works).
Official State Motto of Alabama
The idea for Alabama's state motto ("We Dare Defend our Rights") came from Marie Bankhead Owen of the Alabama Department of Archives and History while searching for a phrase to be put on the state coat of arms (completed in 1923).
Professor W. B. Saffold of the University of Alabama translated the motto into Latin: Audemus jura nostra defendere. All State Mottos
The inspiration for the state motto of Alabama came from a poem by 18th-century author Sir William Jones which includes the stanza:
"What constitutes a state? . . .

Men who their duties know,

but know their rights,

and knowing, dare maintain."