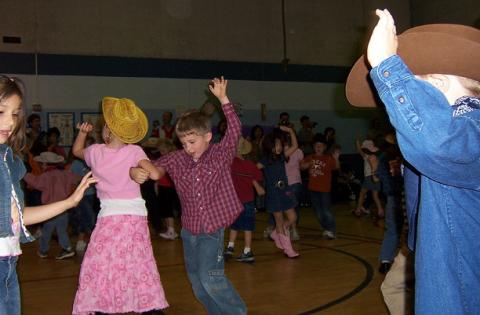 Kids love square dancing; photo by Glenda Sims on Flickr (noncommercial use permitted with attribution / share alike).
Official State Folk Dance of Colorado
Colorado designated the square dance as the state American Folk Dance in 1992. Twenty-two states have passed legislation to adopt the square dance as an official state dance. All State Dances
About Square Dancing
The square dance provided pioneers with recreation and social contact with neighbors, and is still doing that today! The square dance is uniquely American with borrowed bits from French quadrilles, Irish jigs, English reels, and Spanish fandangos. From Colorado State Archives:
"Square dancing is the American folk dance which traces its ancestry to the English country dance and the French ballroom dance, and which is called, cued, or prompted to the dancers and includes squares, rounds, clogging, contra, line, the Virginia Reel, and heritage dances."