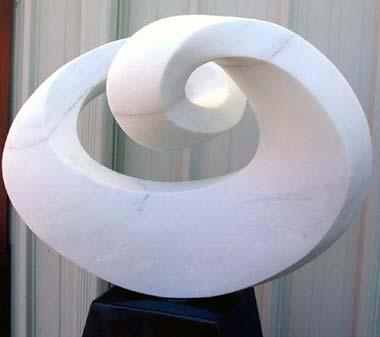 Marble Curl (Colorado Yule marble sculpture); photo © Sculptor Thomas Woodward (all rights reserved; used by permission).
Yule Marble
Yule marble was designated the official state rock of Colorado in 2004. This white marble is comprised of almost pure calcite grains tightly joined to give it a luminous quality. A marble deposit was reported in 1882 in Gunnison County on Yule Creek, although a producing quarry did not begin operations there until 1906.
The outstanding quality of the Yule Marble made it the choice for use in the basement of the Colorado Capitol as well as numerous national monuments in the United States including the Washington Monument, the Lincoln Memorial and the Tomb of the Unknown Soldier.