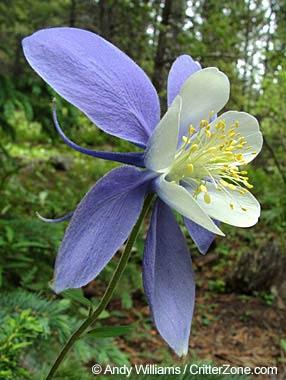 Official State Flower of Colorado
The white and lavender Rocky Mountain Columbine was designated the official state flower of Colorado in 1899 after winning the vote of Colorado's school children. All State Flowers
Discovered in 1820 on Pike's Peak by mountain climber Edwin James, the Rocky Mountain columbine (Columbine Aquilegia caerulea) is a lovely flower with a rich aroma to attract bees, hummingbirds and butterflies to it's nectar. The Latin word aquila means "Eagle" and refers to the claw-like spurs at the base of the flower.
Columbines bloom in pastel shades of blue, violet, red, yellow and white. There are 70 species of columbines in the world and about 1/3 are native to North America. Colorado specifies the white and lavender Rocky Mt. Columbine which has blue-violet petals and spurs, a white cup and yellow center. Blue is a symbol of the sky, white represents snow, and yellow symbolizes Colorado's gold mining history.
The Rocky Mountain columbine is a beautiful endemic flower threatened by collectors who want it for their rock gardens. A law was enacted in 1925 to protect this rare and delicate flower. The Colorado General Assembly wisely made it illegal to uproot the flower on public lands and the gathering of blossoms and buds is limited. It may not be picked at all on private land without the consent of the landowner.
Another honor was bestowed on the Rocky Mountain columbine in 1915 when the song "Where The Columbines Grow" was adopted as the official Colorado state song.