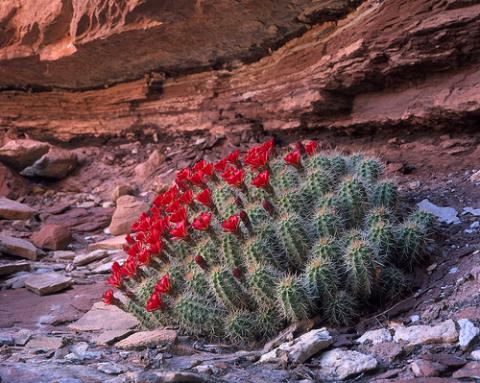 Claret cup cactus photo by Neil Herbert / NPS on Flickr (noncommercial use permitted with attribution / share alike).
Official State Cactus of Colorado
Colorado designated the claret cup cactus (Echinocereus triglochidiatus) as the official state cactus in 2014 (also called kingcup cactus). This Act was passed thanks to the efforts of 4 girls from the Douglas County Girl Scout Troop 2518 in Castle Rock, Colorado. All State Plants
Excerpt from HOUSE BILL 14-1024:
(1) The general assembly hereby finds and declares that:
(a) The Echinocereus triglochidiatus cactus, more commonly known as the claret cup cactus, is native to Colorado and is found in the state's varied habitats, from low, dry land to rocky slopes and mountain woodlands;
(b) The claret cup cactus grows in elevations from four hundred ninety feet to nine thousand eight hundred fifty feet;
(c) The claret cup cactus is considered one of the easiest varieties of cactus to grow and is very popular in rock gardens;
(d) The claret cup cactus is widely cultivated for its beautiful flowers;
(e) The primary pollinators of the flowers of the claret cup cactus are hummingbirds because the long-tubed shape of the flowers can accommodate the hummingbirds' long beaks and their whirring wings; and
(f) The fruit of the claret cup cactus is edible.
(2) It is therefore the intent of the general assembly that the claret cup cactus be added to the array of symbols that demonstrate our state character and pride.