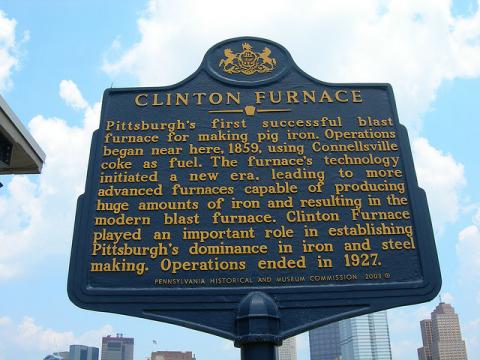 Clinton Furnace Historic Marker; photo by Jimmy Emerson, DVM on Flickr (noncommercial use permitted with attribution / no derivative works).
Clinton Furnace
Marker Inscription
Pittsburgh's first successful blast furnace for making pig iron. Operations began in 1859 using Connellsville coke as fuel. The furnace's technology initiated a new era, leading to more advanced furnaces capable of producing huge amounts of iron and resulting in the modern version. Clinton Furnace played an important role in establishing Pittsburgh's dominance in iron and steel making. Operations ended in 1927.
Location
Clinton Furnace Historic Marker is located in the Central Station area of Pittsburgh, Pennsylvania (Allegheny County), across the Monongahela River from downtown.
From Historical Marker Database; "Location: 40° 26.055′ N, 80° 0.277′ W ... along the Riverwalk at Bessemer Court at Station Square ... Nearest address is 230 West Station Square, Pittsburgh PA 15219 (behind the Hard Rock Cafe)."
Facts | History
-of Pittsburgh Steel Industry -