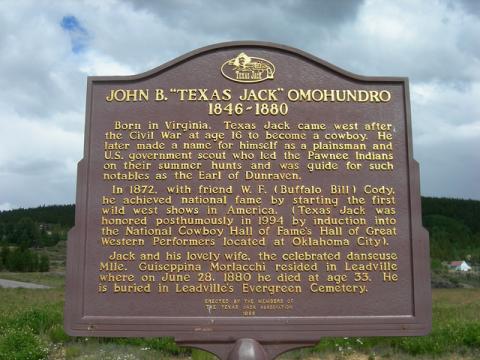 Texas Jack Historic Marker; photo by Jimmy Emerson, DVM on Flickr (noncommercial use permitted with attribution / share alike).
JOHN B. "TEXAS JACK" OMOHUNDRO 1846-1880
Born in Virginia, Texas Jack came west after the Civil War at age 16 to become a cowboy. He later made a name for himself as a plainsman and U.S. government scout who led the Pawnee Indians on their summer hunts and was guide for such notables as the Earl of Dunraven.
In 1872, with friend W.F. (Buffallo Bill) Cody, he achieved national fame by starting the first wild west shows in America. (Texas Jack was honored posthumously in 1994 by induction into the National Cowboy Hall of Fame's Hall of Great Western Performers located at Oklahoma City).
Jack and his lovely wife, the celebrated danseuse Mlle. Guiseppina Morlacchi resided in Leadville where on June 28, 1880 he died at age 33. He is buried in Leadville's Evergreen Cemetery.
ERECTED BY THE MEMBERS OF THE TEXAS JACK ASSOCIATION 1996