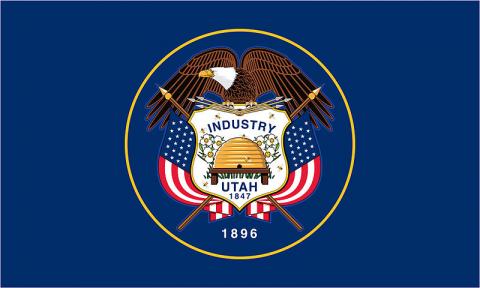 The flag of Utah; image by David Rindlisbach on Wikipedia (use permitted with attribution / share alike).
Official State Flag of Utah
Utah's flag features the state seal against a field of blue. The date 1847 is the year the Mormons came to Utah. 1896 is the year Utah became the 45th state. All State Flags
The beehive on the shield is a symbol of hard work and industry (the state motto is INDUSTRY, a beehive is the official state emblem, and Utah's nickname is The Beehive State).
A bald eagle (the United States national bird) perches atop the shield as a symbol of protection in peace and war (the eagle clutches arrows as a symbol of power). The sego lilies on right and left of the beehive are a symbol of peace (sego lily is also the state flower of Utah). A U.S. flag banner appears on each side of the shield, representing Utah's support to the nation.