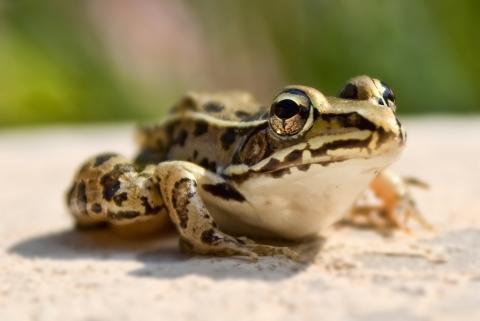 Northern leopard frog; Rana pipiens.  Photo by Andy McLemore/Flickr (Use Permitted with Attribution/Share Alike).
Official State Amphibian of Vermont
Vermont designated the northern leopard frog (Rana pipiens) as the official state amphibian in 1998 (also a symbol of Minnesota). All State Amphibians
Native to parts of Canada and the United States, the northern leopard frog is threatened by habitat loss and climate change.
Senate Bill No. 241
NO. 126. AN ACT RELATING TO DESIGNATING THE NORTHERN LEOPARD FROG AS THE STATE AMPHIBIAN. (S.241)
It is hereby enacted by the General Assembly of the State of Vermont:
Sec. 1. FINDINGS
A healthy northern leopard frog population is desirable in Vermont, and is threatened by loss of habitat and deformities that may be related to changes in the environment. Environmental problems that affect frogs could be a warning about further impacts upon other species, including humans. The colors of the northern leopard frog represent the beauty of our state during all seasons. Ponds are an attractive part of Vermont's landscape and the northern leopard frog helps control the number of insects and pests in our state's ponds. It also helps keep Vermont's pristine wetlands clean by eating algae. For all of these reasons, the general assembly finds it appropriate to designate the northern leopard frog as the state amphibian.
Sec. 2. 1 V.S.A. § 511 is added to read:
§ 511. STATE AMPHIBIAN
The state amphibian shall be the northern leopard frog.
Approved: April 21, 1998