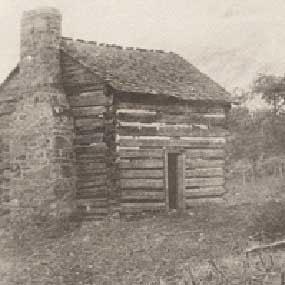 The log cabin near the New River belonging to William and Mary Draper Ingles (in New River Gorge, Virginia), circa 1890; located near present-day Radford, Virginia. Photograph courtesy of the New River Gorge National River site / NPS (public domain photo on Wikipedia).
Official State Historical Outdoor Drama of Virginia
"The Long Way Home" was designated the official state historical outdoor drama in 1994 (Virginia also recognized "Trail of the Lonesome Pine" as an official outdoor drama in the same bill). All Arts & Drama Symbols
The story is based on the book by Susan M. Thigpen and adapted for the stage by Earl Hobson Smith; it is performed in the city of Radford, Virginia. 
"The Long Way Home" takes place in the summer of 1755. A young pioneer mother (named Mary Draper Ingles) was captured by a band of Shawnee Indians and taken back to their village in what is now the state of Ohio. She managed to escape and walked 850 miles  all the way home; months of a torturous journey. 
1994 SESSION. 7.1-40.8, S 588: VA LIS