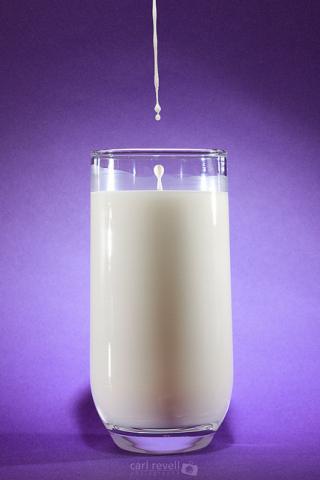 Glass of milk; photo by Sprogz on Flickr (noncommercial use permitted with attribution / no derivative works).
Official State Beverage of Virginia
Milk was recognized as the official state beverage of Virginia in 1982. All Food & Beverage Symbols
According to Virginia Tech's 4-H Virtual Farm, "In 1998 Virginia ranked 19th in total milk production, 20th in the number of dairy cows, and 36th in milk produced per cow in the US. The average dairy cow in Virginia produces 1,860 gallons of milk per year. Virginia dairy farms produced 214 million gallons of milk in 1998. Dairy ranks third in agricultural products sold in the state (behind poultry and cattle and calves)."
Milk has been called a nearly perfect food - a source of protein, calcium, and several other important nutrients. Each dairy cow produces about 6.5 gallons of milk per day. Less than half of this milk is consumed as a beverage - the rest is used for butter, cheese, ice cream, milk powder and other processed products.