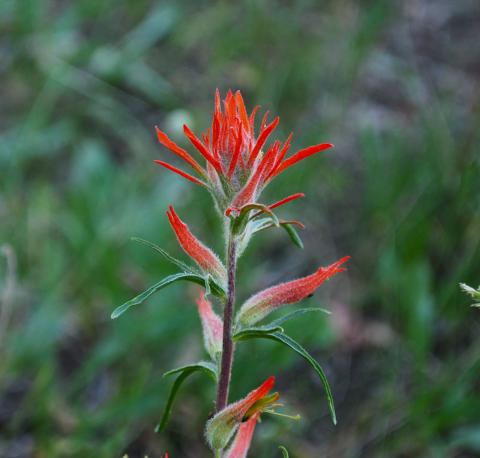 Indian paintbrush; Wyoming state flower.  Photo by rumolay/Flickr (Noncommercial Use Permitted with Attribution/No Derivative Works).
Official State Flower of Wyoming
The Indian paintbrush was designated the state flower of Wyoming in 1917. All State Flowers
Also called prairie fire, Indian paintbrush is a genus of about 200 species of annual and perennial herbaceous plants native to the west of the Americas from Alaska south to the Andes (as well as northeast Asia).
The species of Indian paintbrush adopted as a symbol of Wyoming (Castilleja linariaefolia) is found on rocky slopes and arid plains and is associated with sagebrush scrub and pinyon pine or juniper woodland. This specific variety of Indian paintbrush is native to Arizona, California, Colorado, Idaho, Montana, New Mexico, Nevada, Oregon, Utah and Wyoming.
From Wyoming Secretary of State: "Scientific classification: Indian paintbrushes make up the genus Castilleja, of the family Scrophulariaceae. The common painted cup is classified as Castilleja linariaefolia, the scarlet paintbrush as Castilleja coccinea, and the common Indian paintbrush as Castilleja septentrionalis."