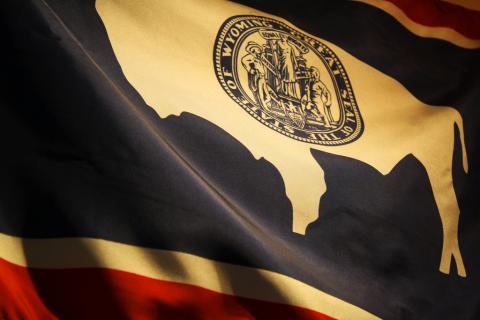 Wyoming state flag; waving in the breeze.  Photo by Christina Maki/Flickr (Noncommercial Use Permitted with Attribution).
Official State Flag of Wyoming
Wyoming was one of the last states to ratify an official state flag in 1917. All State Flags
In 1916 an open competition was held by Wyoming's DAR (Daughters of the American Revolution) for the design of an official Wyoming flag. Between 37 entries, Verna Keays won the $20 first-place prize with her design of a bison (Wyoming's official state mammal) with the state seal branded at its center. Her design was made official by legislature in 1917.
In Verna's original design, the bison faced away from the staff as a symbol of the freedom with which the bison had once roamed over the Wyoming plains. Dr. Grace Raymond Hebard (state regent for the DAR at the time), felt the design would be more balanced with the bison facing the staff. The first flags were printed this way, and though Wyoming legislation has not officially recognized this change, Wyoming flags have been printed with the bison facing the staff since 1917.
The red, white, and blue colors of the state flag are the same as those of the national flag. The red on the border is a symbol of the native Americans who inhabited Wyoming long before settlers came, and also represents the blood of pioneers who gave their lives to claim the soil. White is a symbol for the purity and uprightness of Wyoming. Blue is for Wyoming's sky and mountains, and is also a symbol of fidelity, justice and virility.