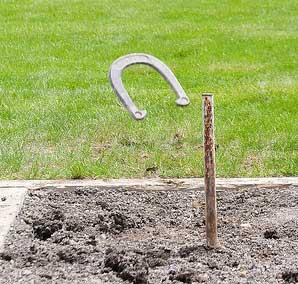 Looks like a ringer! Photo of horseshoe about to land; copyright © Kris Radder on Flickr (used by permission).
Stockton Fall Horseshoe Tournament
Alabama designated the Stockton Fall Horseshoe Tournament as the official state horseshoe tournament in 1992. The tournament was held for a few years as part of the annual Stockton festival but was then discontinued.
Horses and the culture they supported are represented by several other Alabama symbols - the state horse (racking horse), the official state horse show (The Alabama Championship Horse Show), and a state agricultural museum complete with living history blacksmith (Dothan Landmark Park).