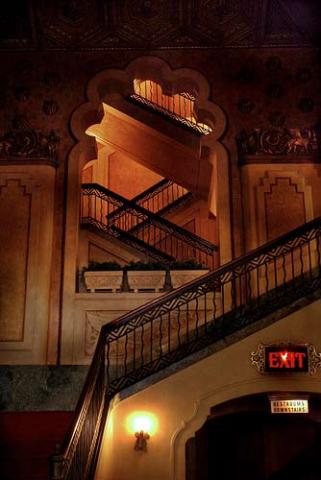 Staircase at elegant Alabama Theatre for the Performing Arts in Birmingham AL; Photo © Duncan McKinnon on Flickr (used by permission).
Alabama Theatre for the Performing Arts
The elegant Alabama Theatre for the Performing Arts was designated the official historic theatre of Alabama in 1993. Built in downtown Birmingham by Paramount Studios in 1927 as a showcase for Paramount films and home to "The Mighty Wurlitzer" organ, the Alabama theatre has hosted historic figures of stage and screen such as John Barrymore, Roy Rogers, and Tallulah Bankhead.
Named the "Showplace of the South" by the movie vanguard Adolph Zuker, the theatre was used primarily as a movie palace for 55 years (with the exception of the weekly Mickey Mouse Club and annual Miss Alabama Pagent) until closing its doors in 1981. In 1987 the theater was purchased by a nonprofit corporation (Birmingham Landmarks Inc.) and became a performing arts centre.
As the new Alabama Theatre for the Performing Arts, the theater began hosting many live events in addition to films (over 300 events such as broadway shows, ballet, opera, rock & roll, parties, weddings, and fashion shows are attended by half a million Birmingham - area citizens each year). The Theatre underwent a complete restoration In 1998, transforming its faded grandeur to a sparkling and lavish 1927 look.
The origin of theater goes back to prehistoric people acting out their hunting experiences and ancients singing and dancing for religious ceremonies. Theater as pure entertainment evolved slowly - the first recorded European theater was in ancient Greece about 600 BC (for a festival honoring the god of wine and fertility). A poet named Thespis won a dramatic play competition at this celebration and is so considered "the first actor" (origin of the term thespian).